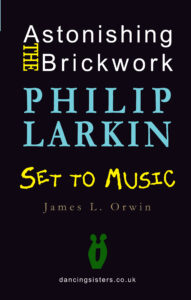 TITLE: Astonishing the Brickwork: Philip Larkin Set to Music
by James L. Orwin
Publication date: 9 August 2022
(Published in association with the Philip Larkin Society)
Dimensions: 138mm X 216mm (pp. 264)
ISBN: 978-1-9997071-6-3 
Price: £30.00 (including shipping to destinations within the UK)
Philip Larkin loved music. He was acutely aware of its emotional power. There is clear evidence of this throughout his poetry: from the 'wintry drum' of 'All catches alight', the first poem in The North Ship, to 'The Explosion', the final poem in High Windows, which was inspired by a song about a mine disaster; from the 'fresh-peeled' voice of a thrush 'Astonishing the brickwork' in the poem 'Coming' ('On longer evenings'), from XX Poems, through to the voice 'heard singing of Kitty or Katy' in 'Dublinesque', from High Windows; and perhaps more particularly, in the context of The Whitsun Weddings, the poems 'Love Songs in Age', 'Broadcast', 'For Sidney Bechet' and 'Reference Back'; but also in numerous other poems such as 'To write one song, I said', 'Night Music', 'Reasons for Attendance', 'Two Guitar Pieces', 'The Dance'… Even more than this, his poetry oozes a technical musicality from almost every line.
Aside from the poems, Larkin's passion for music, particularly jazz—he called jazz musician Louis Armstrong a 'combined Chaucer and Shakespeare of jazz'—is well documented in his collected prose writings, reviews and interviews published in Required Writing, All What Jazz, and Further Requirements. It seems therefore appropriate that so many musicians and composers have been drawn to his poetry.
But can poems be set to music to create new significant works of art? Can a musical setting extend, expand, illuminate and elucidate a poem in such a way that it becomes almost universally recognized as a great song?
Astonishing the Brickwork: Philip Larkin Set to Music catalogues the attempts of composers across the world to prove that they and the poems of Philip Larkin are equal to the task.
To date, over 60% of poems in Collected Poems (1988) have been set to music on a least one occasion, along with at least four poems not included in Collected Poems.
More than 50 settings of 'This Be The Verse' are identified in this catalogue, with the tally for its closest rival, 'The Trees', approaching 40. Over 500 Larkin settings have been created by in excess of 250 different composers or songwriters, with over 20 composers having set more than 5 Larkin poems to music.
The settings of 'This Be The Verse' range from the frenetic 28 second verbal avalanche of An Gordanache!, a Scottish-Armenian rock project based in Vanadzor; through the elegant and understated 'butter-wouldn't-melt' country-influenced sophistication of Edwina Hayes, as featured on the all night north CD album of 2010; to the electronic, dance-driven 'clickhop' of MRI3's 'As a Child I Could Fly Without Wings'.
The acclaimed American composer and conductor, Leonard Bernstein regarded Larkin as: 'the finest 20th century poet in the English language'—we can only guess at the possible Larkin influences in his work; but for more than 200 others, Larkin's influence is as clear as the fresh-peeled voice of a thrush astonishing the brickwork.